Wednesday, February 17, 2010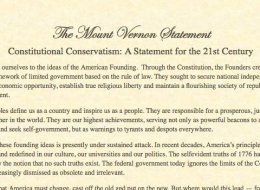 More than 80 key conservative grassroots organizers and conservative politicians met today at Mount Vernon, Virginia, the historical home of George Washington, to sign a conservative manifesto in opposition to the current policies of the Obama-Reid-Pelosi administrations in Washington DC.

"With this statement, and its many signatories, a new day dawns for the conservative movement," said Edwin Feulner, Jr., president of the Heritage Foundation, and one of the drafters of the statement. "It reasserts conservative principles, values and beliefs that are embraced by more people in this country than those of any political ideology. Fifty years ago, the federal government threatened to grow exponentially. Visionaries then gathered in Sharon, Connecticut, to articulate essential principles of American governance. Today, that threat is even greater, and so we must articulate anew the nature of Constitutional Conservatism in the 21st Century."

To view/sign the historic statement, visit http://www.themountvernonstatement.com/.